Cultural Heritage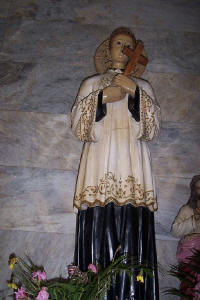 Our municipality is full of culture and heritage. Relics of the past still linger in our place. The old houses built in stones and wood will remind us of the Spanish era. The icons of the different saints are still preserved one of which is the that of the Patron Saint Aloysius Gonzaga.
People are very religious and hospitable. The culture of kissing the hands of the elders and praying together is still being done today. The Boling-boling is still continuously danced by the church-going female elders days before the Ash Wednesday.
Holy Week, Easter, Christmas, Mayflower Festival, Feast of St. Aloysius Gonzaga and Barangay Fiestas remained to be the major religious activities in Guinayangan.
Historical Landmarks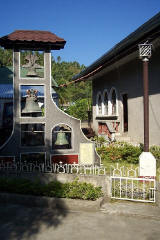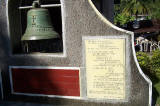 Century-Old Bells
Catholic Church Compound
CM Recto Street Barangay Poblacion
Living representations of the old existence of Catholicism in the municipality. A collection of all the bells used by the Catholic Church in calling its members to attend to their obligations to the Almighty and whose lost chimes remained unaltered on the minds of the faithful in reminiscing past celebrations and holding of traditions.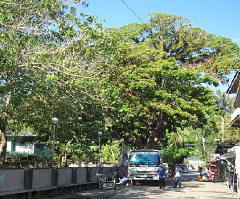 Century-Old Acacia Tree
Roldan Avenue cor. Jose Rizal Street
Barangay Poblacion
Planted in early 1900s which now stands approximately 50 meters and extends about 20 meters wide. Strategically located at the center of the town proper near the Municipal Building and the Catholic Church. Unfortunately, the acacia tree fell down on September 5, 2012 due to its old age and decaying roots. The University of the Philippines in Los Baños is currently determining the real age of the tree. On the same site where the acacia was planted will rise a memorial where a part of the tree trunk will be displayed.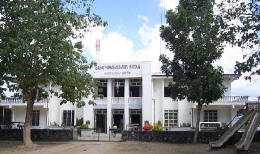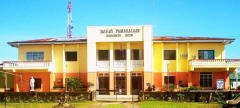 Municipal Building
Jose Rizal Street cor. CM Recto Street
Barangay Poblacion
Built in September 1958 during the early start of the 35-year administration of the longest serving municipal mayor of Guinayangan, Hon. Mariano Roldan, Sr. The Building remains to become the government center of present-day administration.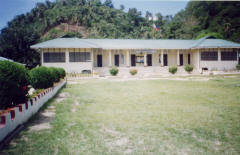 Gabaldon Building
Guinayangan Elementary School
South-end of Roldan Avenue
Barangay Manggagawa
Erected in 1927 and is now the only standing Institutional Building in the municipality built before the destructive World War II in 1942. Thousands of the school alumni regard the building as the living memorial and foundation of their early quest for knowledge.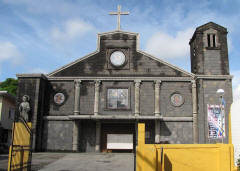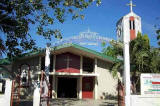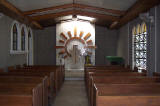 St. Aloysius Gonzaga Parish Church
Claro M. Recto Street
Barangay Poblacion
Rebuilt in August 1974 and the facade remodeled in June 2011 thru the donations of the catholic faithfuls, the St. Aloysius Gonzaga Parish Church remains to be the center of Catholicism in the municipality since its founding in June 1845 that has been served by 58 Parish Priests in succession from its first parish priest, Rev. Fr. Bonifacio Estebez.