Fine Cuisine

Filipinos are known for their fine dining and excellent cuisine. With a long range of menus from local to international foods, most of our restaurants can cater to any nationality. But the most popular and well known about Guinayangan is its variety of sea foods and native cooking. The abundance of these sea foods make the municipality of Guinayangan popularly known as the Seafoods Paradise of Quezon.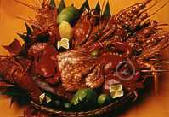 From the positive word-of-mouth advertising, fine dining in Guinayangan emerged an upscale food business with a mission of pleasing the most discriminating taste with services at par. For the past several years, dining outside the comfort of home in Guinayangan have been also noted for the personalized services they offer and through the years have made the quality and taste of food very delectable and appetizing. For only 150 to 200 Pesos, you can already get a full meal for 2 to 3 persons.
If your are in for fast snack, fastfood centers are available in main streets and at the municipal public market. With all the cheap and delicious fast snacks available during the times you most need it, we assure, you can never go hungry here.
Where to dine and wine?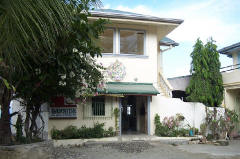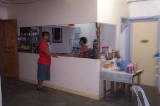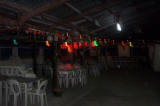 BAYSIDE VIDEOKE BAR AND RESTAURANT
Jose Rizal Extension Barangay Poblacion, Guinayangan, Quezon
Contact Person: Mrs. Melanie Batibot/Mrs. Imelda Noriel
Jose Rizal Ext., Brgy. Poblacion, Guinayangan, Quezon
Tel. No. (042) 303-4152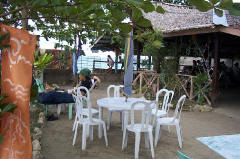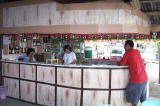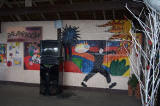 DALAMPASIGAN BAR, LODGE AND RESTAURANT
Roldan Avenue Barangay Poblacion, Guinayangan
Contact Person: Mrs. Zita Tapao/Maila Lalog
Roldan Avenue., Brgy. Poblacion, Guinayangan, Quezon
Tel. No. (042) 303-4234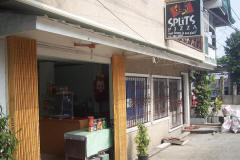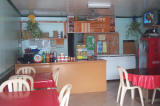 SPLITZ PIZZA
Provincial Road, Barangay Calimpak, Guinayangan
Contact Person: Mr. Genesis R. Aguilar
Barangay Calimpak, Guinayangan, Quezon
Tel. No (042) 303-4566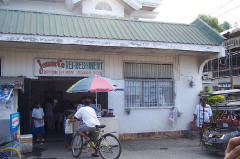 JOMARIíS REFRESHMENTS
Roldan Avenue cor. P. Isaac Street
Barangay Poblacion, Guinayangan, Quezon
Contact Person: Mrs. Crispina J. Isaac
Placido Isaac St., Brgy. Poblacion
Tel. No. (042) 303-4078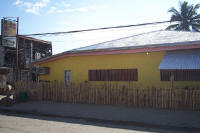 DIVINE VIDEOKE AND BAR
Claro M Recto Street Barangay Poblacion, Guinayangan, Quezon
Contact Person: Mrs. Divina Kunanan-Sato
Brgy. Sisi/Poblacion, Guinayangan, Quezon
NARTE'S CARINDERIA
Placido Isaac Street Barangay Poblacion, Guinayangan, Quezon
Contact Person: Mr. Lamberto Narte
Placido Isaac St., Brgy. Poblacion, Guinayangan, Quezon
Tel. No. (042) 303-4104