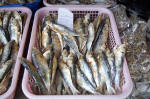 Guinayangan is one of the municipalities in Quezon Province exporting dried fish (tuyo and bislad) and also of smoked fish (tinapa). Barangay Manlayo produces much of these and their products reach as far as Batangas, Cavite and Metro Manila. Dried fish in Guinayangan is famous for its delicious taste and good quality compared to others producing the same.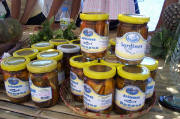 The municipality is also proud of the Bangus in Oil product of Arbismen Sipag at Tiyaga Multi Purpose Cooperative (ASTMPC) in Barangay Arbismen. Their bottled product won the nationwide search for the Best ARC Products for 2002 held at SM Megamall. ASTMPC is now supplying stores outside the municipality with their Bangus in Oil. Its delicious taste made special with a little hot and spicy flavor made it unique and different with other home-made processed fish products.
Still, Guinayangan's agricultural produce such as copra, palay, banana, corn, root crops, legumes and fruits comprise almost 70% of the whole industry of the municipality. Animal raising like swine, poultry and livestock is also becoming a good source of livelihood for the barangay folks.
Other small backyard industries present in Guinayangan are handicraft making, sawali making, soap-making and bottled vinegar.
In the future, processing of bottled bagoong and patis will push through. This seems very feasible particularly since the beginning of operation of the Municipal Fish Port and the proposed Construction of Ice Plant is getting more positive affirmation from the Department of Agriculture - Philippine Fishery and Development Authority (DA-PFDA).